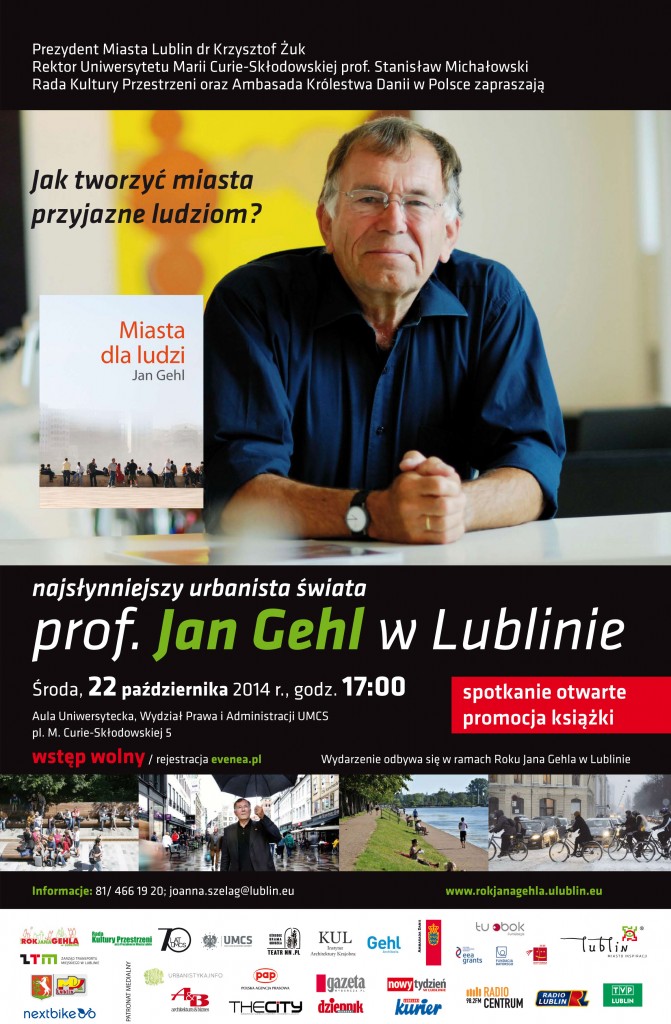 Program of the visit
Accompanying exhibitions:
Works of master degree students of Landscape Design from the University of Life Sciences gathered from three years of classes of shaping the landscapes of cities (revitalization, searching for an identity, transport reorganization and disabled accessibility) made according to the recommendations of Jan Gehl. (Hall next to the University Auditorium at the faculty of Law and Administration of the Maria Curie-Skłodowska University)
The Good City Exhibition organized by the Embassy of Denmark (Main Post Office),  20th of October till the end of the month.
22nd of October, Thursday
Proffesor Jan Gehl's arrival from Kraków to Lublin (afternoon)
17:00 – open meeting (lecture and book promotion), University Auditorium at the Maria Curie-Skłodowska University, Faculty of Law, Maria Curie-Skłodowska Square 5, please register on the site Evenea.pl. NOTE: free entrance, but in case of a big interest entering will be decided by order of registration on Evenea.pl, please register here:
We also invite you to announce yourself on Facebook:
23th of October, Thursday
9.00-12.00 Field vision of the city, including some problematic areas (morning)
13.00 – 16.00 Workshops for employees of the City Office of Lublin (afternoon)
Visit to the "Grodzka Gate – NN Theatre Centre" and meeting with circle of Culture of Space, Pedestrian Lublin, activists (about 60 persons) at the House of Words in Królewska Street 17. The subject will be Jan Gehl's cooperation with city activists and his advice for them (evening)
24th of October, Friday
Closed meeting with City Officials, possible cooperation negotations, City Hall (before noon)
11.00 –  'First step' happening as the official opening of the 'City for people. Lublin pedestrian infrastructure standards' project – Łokietek Square in front of the City Hall (early afternoon)…
… and press briefing
The organizers reserve the right to change the program.