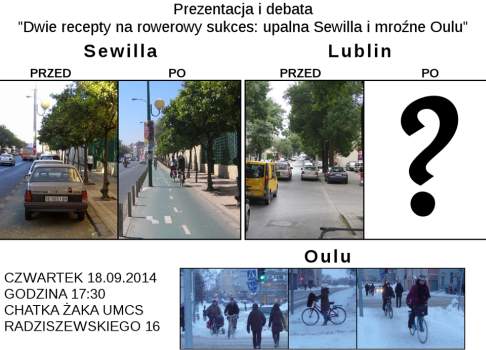 The 8th of September 2014 – as part of the European Mobility Week a presentation and debate was held, under the name 'Two recipes for cycling success: sorching Seville and freezing Oulu', organized by the Cycling Agreement and the Society for Nature And Man.
Two completely different cities, Seville located in south Spain, and Oulu close to the Artic Circle in Finland, are both synonymous for success in the development of cycling. Seville has made a transport revolution, thanks to which the bike traffic increased 10 times in only 3 years and now is about 7% of total. In turn in Oulu, despite the harsh climate, cycling traffic is 20% of total, and in the winter it decreases only slightly. Whether if similar achievements are possible also in Polish conditions was explained by Marcin Jackowski from the Society Green Masovia from Warsaw. The meeting took place in the Medial-Artistic Incubator of the Academic Culture Center 'Chatka Żaka'. At the end of the debate a competition was held, about the knowledge of cycling transport.
The winners of the competition with awards and Krzysztof Kowalik presenting the main prize of the European Mobility Week in Lublin: a city bike, which could be won at the race at the end of the week. Photo by Krzysztof Wiśniewski.