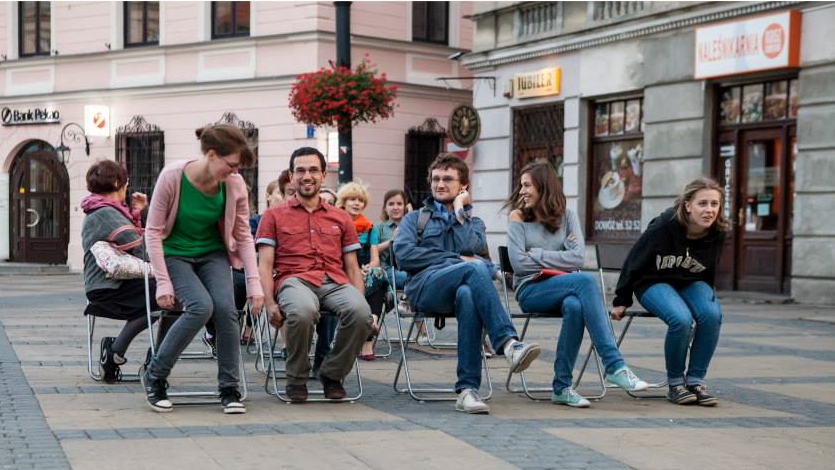 The 14th of August 2014 – a meeting in Zielony Talerzyk restaurant was held as a part of Lub design! Project, with Ewa Gołębiewska on the subject directly inspired by The Year of Jan Gehl and his idea of 'cities for people' – 'Human or inhuman cities?' In some we feel good and welcome, chaos and noise in other makes us ill. Architect Jan Gehl called for creating public spaces in a way that they were made-to-measure human scale, they would inspire, while giving our bodies and senses relief.'
The aim of the meeting was to refer this idea to Lublin's public spaces. Using the 'design thinking' methods the participants discussed how residents can make the city more friendly and co-create the public space to make it human and full of people, no matter the time of day and season.
Ewa Gołębiowska is a co-initiator and director of Cieszyn Castle, the first regional center in Poland that promotes good design among businesses and the public sector. This is what she wrote on her blog in a post called polub Lublin [get to like Lublin]:
Polub Lublin …maybe just because of the fact that The Year of Jan Gehl is held there. The Danish architect is known for the fact that the cities which he worked in are considered the best for living. Examples that seem to be unreachable for some: Copenhagen, Helsinki, New York. Will Lublin join them? We will see…. Fortunatelly some of Gehl's books were published in polish (it's good to start with 'Life between buildings'), they are must-reads in order to prepare for meeting him – 22th of October, obviously in Lublin. […] During the workshops with the residents: urban activists, often architects or historians, we discussed how to develop a city for PEOPLE. No, it's not a secret knowledge, all wisdom lies within them, and we are only the trigger. This time we combined the methods of 'place making' and design thinking. Sounds smart, works well, the point is that for a brainstorm and choosing the best proposals we had only two hours, so the prototyping of chosen solutions was left in the good, local hands.
The photo that opens the post comes from an earlier event of Lub design! that consisted of 'prototyping' the best sitting spots 🙂