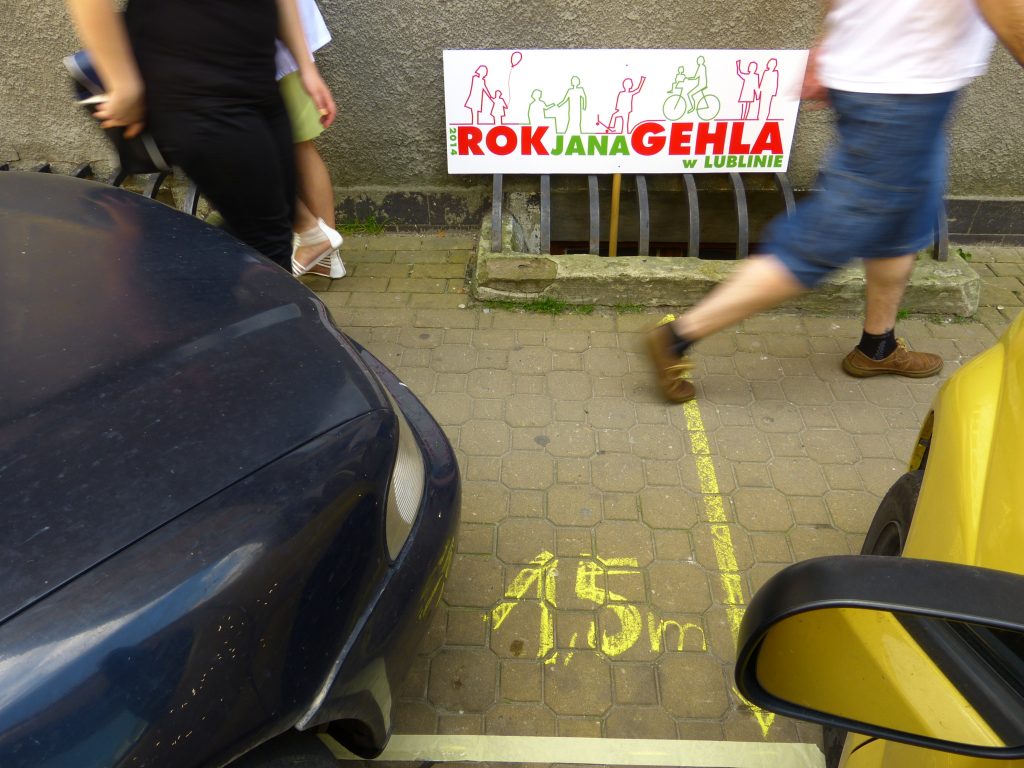 10th of June 2014, Pedestrian Lublin agreement, established on the 28th of May 2014, organized a press conference in form of a street event that exposed the problem of drivers not respecting the rule of parking cars on sidewalks, a rule that obligates to provide a minimum of 1,5m passage for pedestrians along walls. The place for the event was precisely considered, chosing Hipoteczna Street due to the location of a specialist clinic. The street is frequently attended by elderly, parents with children but still the cars are being parked diagonally instead of in parallel to the road.
We made it!
The event was attended by journalists from two newspapers: Kurier Lubelski and Dziennik Wschodni, as well as four radio stations: Lublin, Free, eR… well, maybe only three.

Participants:

Łukasz Sobótka (the man with a measuring tape, organizer)
Emilia Szuper (the woman in high heels)
Krzysztof Kowalik (the man with a suitcase)
Krzysiek Wiśniewski (the man with a tape)
Michał Przepiórka (the man with a bicycle)
Me – Marcin Skrzypek (the man with a camera)

The begining was nervous, as it turned out that the cars in front of Pyzata Chata were parked perfectly 1,5m away from the wall, while on the other side of Okopowa Street a scaffolding had been raised, so all the cars were parked in parallel to the road. But Hipoteczna Street did not disappoint us! It was there that we finally chose to run the event. We've got lots of photos and some ideas for the future.

Two interesting incidents occoured:

When we had started putting the tape on Sądowa Street all three of the drivers whose cars were parked incorrectly have removed their cars. But then new ones arrived. Anyhow, we can see that the measuring and marking introduces a nervous atmosphere.
While standing by the scaffolding on Okopowa Street a car arrived and started to drive on top of the lines we had marked on the sidewalk in order to park in an illegal spot. The driver even spent 20secs moving the car to encourage us to let him through, but he met his match ;). He have backed out, but it was quite a rude behavior, not to mantion that it's worth a 300PLN fine. We were a little shocked.

This incident confirms the thesis that cars are possessive and can even 'wrestle' with pedestrians.