The idea of announcing the 'Year of Jan Gehl' in Lublin was collectively accepted at a meeting in the office of City's Monument Preservation Officer on the 28th of November 2013. The meeting was attended by Hubert Mącik (head of the office), Michał Przepiórka (Cycling Officer of Lublin City Council), Jan Kamiński (head of the Council for Culture of Space), Marcin Skrzypek (member of the Council for Culture of Space, employee of "Grodzka Gate – NN Theatre" Centre). After the meeting the following description of the idea have been created.
A series of actions concerning spatial education under the slogan the 'Year of Jan Gehl in Lublin'
All the answers concerning the public space are in our body. We know how our senses work, how we communicate, how me move[…] New models of life are emerging, a society of free time is being born. People want new experiences, they want to visit interesting places. Instead of flying to Venice or to Bermuda, some are starting to think that it would be better if their own city was attractive. It has been proven that the so-called creative cities attract investors and events, it is them where economy and culture is growing.
'Cities for people – interview with Jan Gehl', 'Architektura-Murator' magazine, issue nr 02/2009.
gehlcitiesforpeople.dk
The Idea
The idea is to organize an annual series of education activities concerning public space, for various audicences (residents, distric councils, students etc.) combined with efforts of directing an official invitation of Jan Gehl from the Lublin City Council. Gehl is a global expert in the field public spaces, so it could give the city an impulse to develop it's public spaces as well as pedestrian, cycling and public transport. The educational activities are meant to raise general intrest in the ideas of Professor and prepare the recepients – including the local authorities – so they could understand what he will be speaking about and how it can be used in planning in Lublin and the residents' close neighbourhood.
The idea came from a desire to invite Jan Gehl to Lublin, as it happens in other cities. The problem is that his arrival itself, even though it gathers crowds, does not lead to noticeable changes in the local spatial policy. Thus the idea of preceding the visit with educational activities. The profitability of this idea lies in the fact that even if the invitation does not happen, the achieved effects will be proportional to the effort invested in education, and part of the recepients will come to contact with Gehl's ideas through books or the internet, which can change the thinking of spaces of Lublin in the long run anyhow.
How to design a city to make it a city for people, instead of primarily being for cars?
How to encourage residents to go out and improve their neighbourly bonds?
How to make the public space more attractive for it's users?
What activities should be avoided in designing the cities?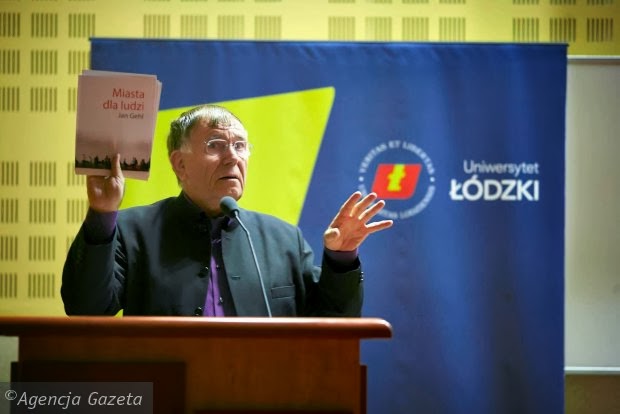 lodz.gazeta.pl, fot. Marcin Stępień
 About Jan Gehl
Jan Gehl (born on the 17 of September, 1936 in Copenhagen) – world famous Danish architect and urban planner, Professor of the School of Architecture of Royal Danish Academy of Fine Arts, founder of Gehl Architects – Urban Quality Consultants. He had been teaching in, among others, Edinburgh, Vilnius, Oslo, Toronto, Calgary, Melbourne, Perth and Berkeley. Gehl changed the face of Copenhagen, today used as a model of possible changes that humanize the urban space on a large scale. His company works on the level of specific projects with various cities. Among them are big ones like Sydney, London, New York or Moscow, and smaller ones like Brighton, Malmö and Christchurch (New Zealand). Currently, he writes books and travels with his lectures in order to popularize the idea of 'Cities for People' and values and planning rules that relate to it.
website: www.gehlarchitects.com
blog: gehlcitiesforpeople.dk
Selected publications: Life Between Buildings: Using Public Space (1987), Public Space, Public Life (1998), New City Spaces (2000), , New City Life (2006), Cities for People (2010) and the movie directed by Andreas M. Dalsgaard 'The Human Scale'.
First, we shape the cities, then they shape us. This is why it is so important to arrange and modify them mindfully, and always in 'human scale'.
Adam Kruk,  transatlantyk.org